Trainings
I am excited to announce my next 300 Hour Advanced Teacher Training starting this September 29th!

Next Information Session: Tuesday, July 31st at 7pm at Dew Yoga
Yoga has always been a journey of getting to know ourselves better. To solve the mysteries of our chronic pain and suffering. Teacher trainings offer an opportunity to attain more knowledge of the body, mind and soul to move towards a state of greater clarity and peace of mind. Dive in deeper to the expanded teachings this course has to offer and enjoy the incredible journey!
This programs will include master guest teachers to elevate your awareness in all the realms of yoga, including anatomy, physiology , philosophy, yin, restorative, therapeutics and so much more!
Please scroll to the bottom of the page and press the arrow for testimonials from previous graduates.
300 Hour Advanced Teacher Training
2018-2019 300 Hour Advanced Teacher Training Dates:
September 29-30
October 13-14
November 3-4
December 8-9
January 5-6
February 2-3
March 2-3
April 6-7
May 4-5
May 18-19
June 1
Wednesday Evenings: October 3, November 14, December 5, January 16, February 27, March 20, April 10, May 15th
Select dates for mentoring sessions and practice sessions.
Cost: Your $500 Deposit is required by July 1st. EARLY BIRD COST: $4,200 DUE BY August 18th 2018. Thereafter until Sep 29, 2018 cost: $4,500.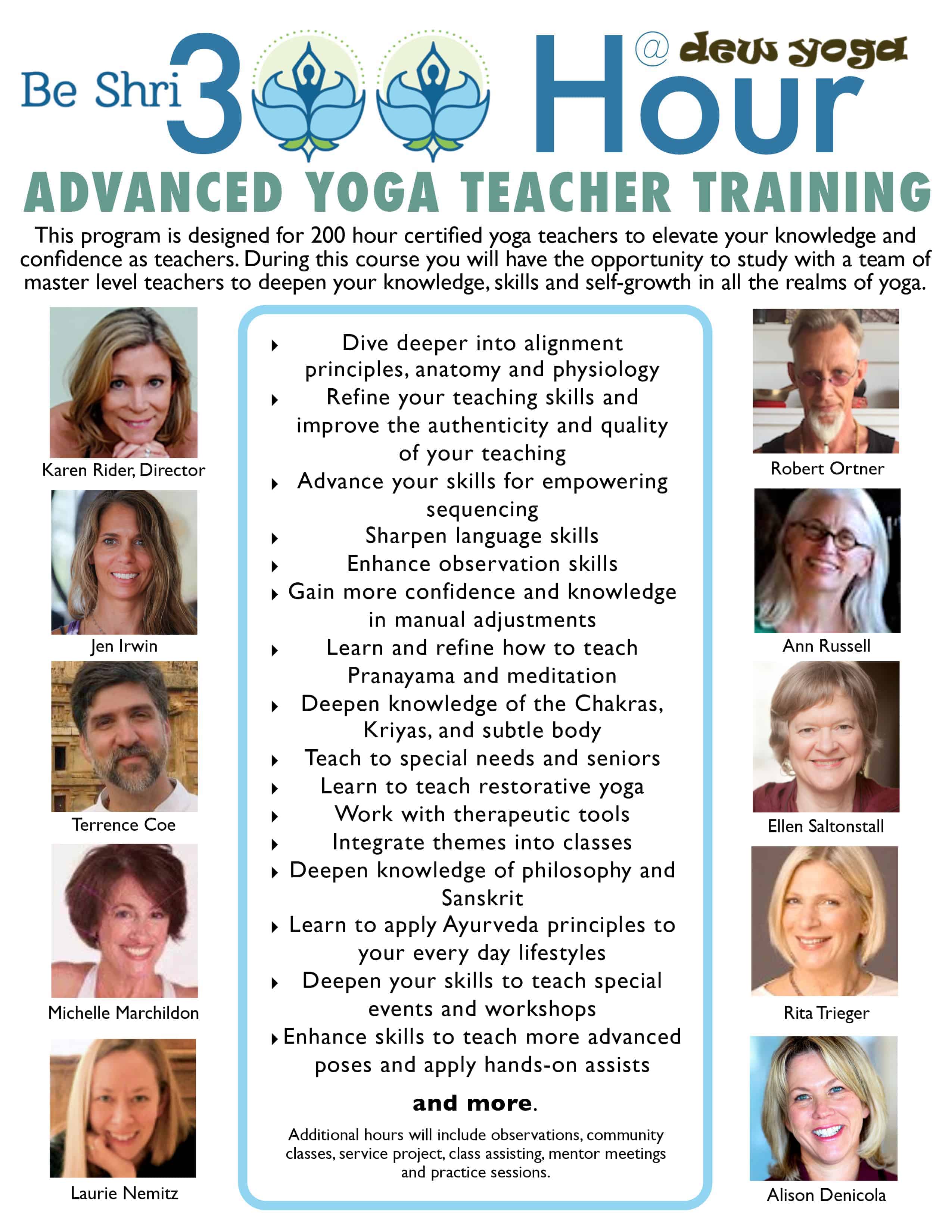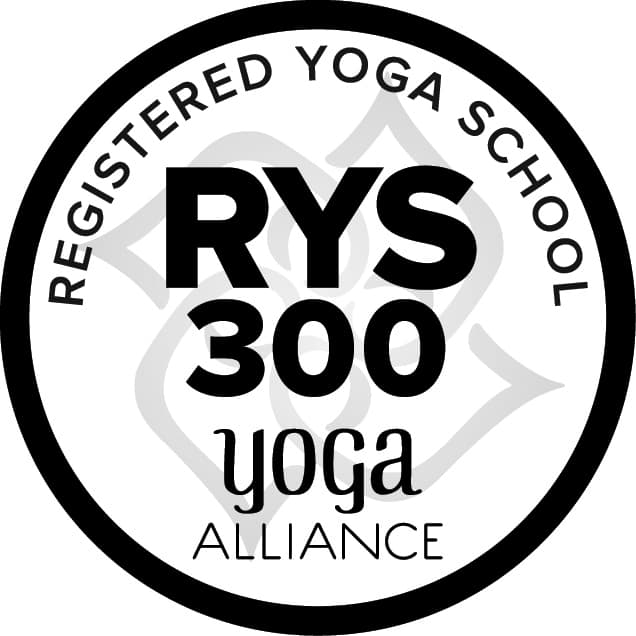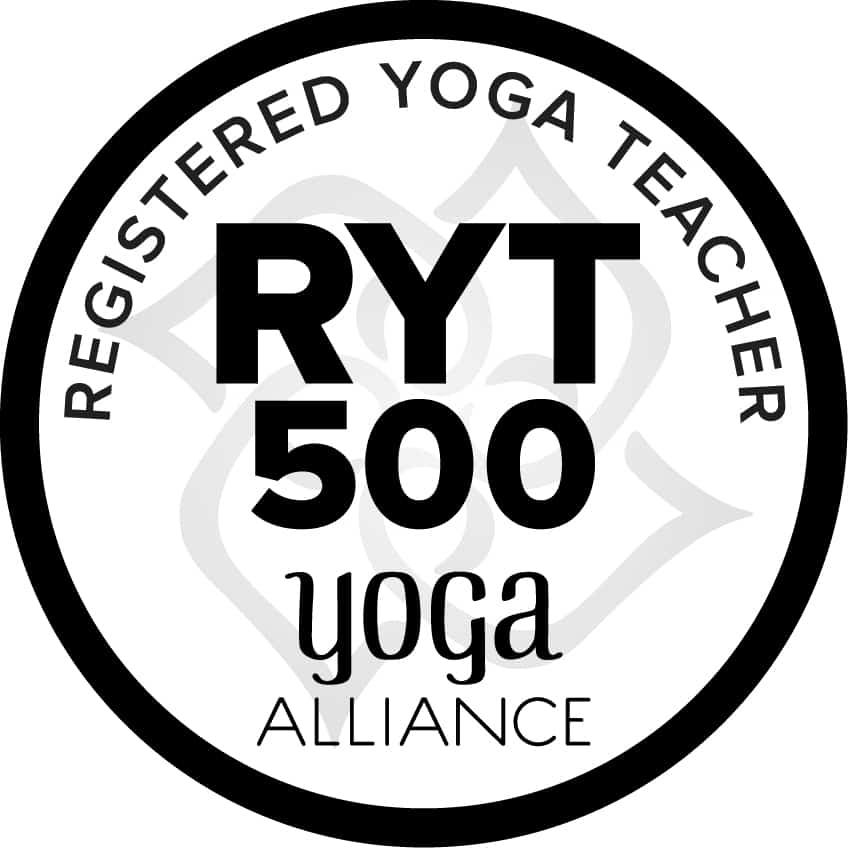 Be Shri 200 Hour Yoga Teacher Training
Stay tuned for next program dates
If you are looking to deepen your practice and knowledge of yoga or aspire to teach yoga, this comprehensive program is for you!  Yoga is a transformative practice and this program will offer you an opportunity to immerse yourself in the full in depth study of yoga in a vibrant, nurturing and supportive environment. You will receive the knowledge and skills to enhance both your practice and how to offer your gifts as a teacher with confidence and clarity. I am excited to be co-teaching this training with with Jen Irwin, Dew Yoga owner, along with our specialty guest teachers and mentors to offer you one of the most comprehensive programs in our area.  The program will be spread out over nine months to allow for assimilation of all the incredible teachings.
Study the history and philosophy of yoga
Understand Ayurveda principles
Learn meditation and pranayama techniques
Understand alignment as a path to safety and healing
Discover your authentic voice and unique gifts
Explore the power of subtle energy
Practice the art of skillful manual and verbal adjustment
Develop creative and effective sequencing patterns
Learn how to teach with themes and to the heart
Learn about the business of yoga
Choose electives, practice yoga, and practice teaching
Additional hours will include mentor meetings, class observations, and practice sessions
Cost
Early birds: $3200
$3500 thereafter
$500 deposit
Teacher Training Application
testimonials
Praise from Karen's students.
If you are interested in a 300 hour training - this is the one!  Karen brings in so many great teachers!  You learn a ton and really increase your teaching skills significantly.  You will feel so much more confident when you teach and have so much more to offer students.  Even if you don't plan to teach, you will have a much deeper knowledge of anatomy, philosophy, therapeutics, meditation and so many great skills for your own life.

300 Hour TT Graduate

The Be Shri 300 Hour teacher training was taught in a loving and kind environment with a variety of expert teachers in their chosen specialties, which was an additional bonus. It was such a great and rewarding experience.

300 Hour TT Graduate

My 300hr TT with Be Shri Yoga has been all I wanted it to be and so much more. Karen Rider and her wonderful fellow teachers have guided me with such kindness and shared their wisdom generously with such joy. I specifically loved how I was guided to take in what serves me as a teacher, to find my personal voice and to know that my best is always good enough. The many practice teaching elements and all the different workshops have truly elevated my teaching! Not only did I learn so much and am now confident to teach any given class on the schedule - I have also made life-long friends. I highly recommend this program!

300 Hour TT Graduate

I had a great experience in the Be Shri Yoga 300 hour teacher training at Dew Yoga.  Having studied with Karen for a decade, and doing my 200 hour teacher training with her, I knew I could expect to learn a great deal in a warm, supportive environment.  Karen welcomes all teachers and traditions and did a great job uniting us and creating the optimal environment in which to learn from one other.  She brought in a wide variety of highly-regarded specialists in the field of yoga.  From anatomy and therapeutics, to creating more inspirationally themed and powerful sequences, we studied with top teachers and had a chance to really dive deeper through independent study, group sessions, and practice teaching. We were challenged to move out of our comfort zones, yet with constant support and encouragement.  While I've been teaching for 4 years now, this program took my teaching to the next level.  I grew in so many ways, including in my hands-on assists, smart sequencing, layering for modifications, and use of clear language.  I got an opportunity to refine my personal voice as a teacher and received very useful feedback from our teachers and my classmates.  After completing this program, I feel inspired and so much more knowledgeable to teach creative, intelligent, mutli-faceted yoga.  Several of my current students and peers have remarked at the growth in my teaching! I highly recommend this 300 training and offer so much gratitude to Karen and the incredible teachers I had the pleasure of knowing along this journey!

2018 300 Hour TT Graduate

I graduated from Karen Rider's 200 hour Yoga Teacher Training in May 2017. It was the best thing I have done for myself in a long time! Karen is not only an amazing yoga teacher, she is authentic, patient, kind and honest. The group of women I met in training will hold a special place in my heart and will forever be friends. I believe that Karen attracts such kind-hearted and loving people. I really enjoyed the variety of material that was presented to us, whether it be an anatomy weekend or learning Sanskrit, it always held my interest and curiosity. The time frame and schedule works great and goes very fast! Don't think twice about signing up. You'll love it! Thank you Karen Rider!

2017 Graduate

The 200 Hour yoga teacher training I took with Karen Rider was truly inspirational.  I learned so much and enjoyed Karen's style.  I highly recommend her trainings to anyone who wants to teach or partake in a program that will significantly deepen your yoga practice and knowledge of yoga.  This is something worth taking the time to do!

2017 Graduate

I recently completed Karen's 200hr teacher training and I am brimming with enthusiasm to get started teaching. Karen's course has given me a rock solid foundation and I am super confidant that I will be able to teach classes that are meaningful and inspiring for all students. I recommend this class for anyone looking to launch a career as a yoga teacher or deepen their understanding of yoga.

2017 Graduate

I completed a 200-hour yoga teacher training with Karen Rider in May 2017.  I had been contemplating the thought for a while.  The nine-month journey was enlightening and deepened my understanding of what yoga means to me.  The study was challenging and included many knowledgeable, skillful teachers for workshops throughout the training.  Karen's guidance and support as well unending confidence and encouragement prepared us to continue our journey to share what we learned to help others experience the amazing healing potential of a yoga practice.

2017 Graduate

I'm so grateful for Karen's expertise in this 200 hour teacher training. Not only is Karen an experienced, skilled teacher but she brings in experts in anatomy and philosophy to compliment her knowledge. The decision to commit to a teacher training was a difficult but I'm so very glad that I decided to begin this journey with Be Shri Yoga. Thank you for everything, Karen!

2017 Graduate

It's my pleasure to highly recommend Karen Rider and Be Shiri Yoga's 200 hour YTT. After months of research I still found myself overwhelmed by other teacher training schedules. I finally had two people separately recommend Karen. Upon our first phone call I felt at ease. She immediately impressed me by her openness. Whether, you are fairly new to yoga, think maybe you aren't good enough to be a teacher or know you can back bend with the best ,Karen was/is clearly open to anyone who wants to learn. There is no pretense. Her classes always organized and left impression. The experts she brought in were deeply impactful. If you take teacher training with Karen her strength and grace is clear and it can sometimes be hard to believe her stories of her body before yoga... then little by little you will start to see your body changing too. Whether it's healing, getting stronger, leaner, standing up taller, less aches, you will find physical and mental change with this training. Perhaps the most magical component is that it goes beyond self. You depart teacher training with the wisdom and ability to share with others. I have said to Karen, when the student is ready the teacher will appear, as she did for me. If Karen is on your radar dive deep and don't look back you will not regret it. With immeasurable gratitude I thank Karen for the change she ignited within me.

2017 Graduate

The Be Shri Training combines an extraordinary knowledge base with a nurturing and accessible approach to instruction. I move on confident in, and excited about, my abilities as an instructor. The studio and connections made during the training will be a tremendous resource in my practice for years to come.

2013 Graduate

I am so happy I decided to take part in the Be Shri Teacher Training program. I have two small boys and was worried I would not be able to find the time to fit everything in, but because the program was spread out over 8 months it was very manageable. The longer time period also allowed the time for everything we learned to really seep in and stick!  Karen provides nurturing leadership while sharing all of her experience and knowledge with her trainees. Workshops with renowned yogis coupled with extensive anatomy and philosophy segments added further depth to really make the whole experience rich!

2013 Graduate

Karen Rider's 200 RYT Teacher Training Program is extensive and intelligently informative. Her excellent choice of guest lecturers over the 8 month period are in line with her style and approach to yoga, and beautifully enhanced the program. Karen has an impressive knowledge of alignment and anatomy and combined with her sweet demeanor makes her an excellent choice to take you through the journey of teaching!

2016 Graduate

I was sad when my journey of teacher training ended at Be Shri Yoga. Each month I looked forward to a new adventure with Karen and our great group of trainees. Karen's passion definitely inspired us to learn as much as we could. Being in the fitness field I have attended many teacher trainings over the years and Karen's was by far one of the best! Karen has a gift for encouraging students to be the best that they can be. She presents the material in a clear format and her guest speakers are top notch in the field.

2016 Graduate

Holding my RTY Certificate, I finished the Be Shri Teacher Training with a desire to learn more. It was an evolving journey that I recommend to anyone who would like to grow and delve deeply into the rewards of yoga. The syllabus covered various topics, with renowned guest speakers and instructors, bringing a cohesiveness to the boundless world of yoga. Through Karen's inspiration and guidance she gives the the opportunity to allow the potential in every student to flourish.

2014 Graduate

Teacher training at Be Shri Yoga was an amazing journey and was beyond my expectations. Karen Rider is a dedicated student of yoga and anatomy with an extraordinary ability to share her knowledge. Her teachings are augmented with mentoring, workshops and and renowned guest teachers. My time in teacher training was the most transformational experience of my life. It has been an awakening that makes me want to learn more.

2015 Graduate

Karen Rider has tremendous knowledge and training as a yoga teacher trainer. She manages to convey very clearly how to articulate the craft of teaching, an aspect everyone should learn in order to teach. She has a beautiful practice and personal nature  which makes this experience so much more fulfilling when learning so much material. The way Karen breaks out the sessions monthly give the students a great window to pause, digest and reflect before absorbing the next influx of information. This was a great experience and the bonds made were a perfect take-a-way!

2016 Graduate

Karen Rider is a brilliant teacher and beautiful person! Her knowledge, compassion and rigor literally changed my life. I was new to Yoga but passionate about yoga's positive influence over my mind, body and physical awareness. I decided to take the Be Shri Teacher Training course for enrichment. I found that the Sanskrit and philosophy coupled with the alignment and anatomy to be a perfect combination for a mind/ body experience. The pacing of the course was manageable with my busy lifestyle yet the course was completely packed with fulfilling knowledge.   This is a "well worth it" course for anyone interested in teaching or gaining a deeper understanding about yoga and its benefits for life.

2016 Graduate